If you're like me, when you started playing, learning how to hold an upright bass was the least of your concerns. You probably just wanted to play the music you loved, right?
I'm all for playing music you love, – keep doing that – but it's also vitally important that you're holding your bass in a way that won't hurt you! Let me explain…
If you hold your bass in a way that puts even a little extra strain on your body, over time, this little bit of extra tension can explode into a world of pain.
If you're not careful, and you don't correct yourself, it could stop you playing altogether. You don't want that, and I don't want that for you.
So read on, and I'll show you how to hold an upright bass properly – in a way that will minimize any kind of tension or strain on your body.
Should I Sit Or Stand?
This is a great question! This really comes down to what you're used to, and what you feel most comfortable with. They each have their own unique advantages and disadvantages.
Personally, most of the time, I stand – but that's mostly just because I'm too lazy to carry a stool with me to every gig. Plus, a stool would take up valuable room in the car. That doesn't mean I don't feel comfortable sitting, it's just that most of the time, I stand. That's what I'll be talking about today
How To Hold An Upright Bass
Stand Up Straight and Lean Your Bass Into You
A huge mistake when I see beginners playing is that they stand their bass up straight, and then try to play around it.
Now, the bass is a big instrument – it's taller than all of us, so make the bass come to you!
Stand up straight and set your bass on the ground in front of you, and a little to your left.
If you stand up straight with your feet naturally facing outward, your left foot will be pointing in the general direction of your endpin.
Now bring the right 'shoulder' of the bass and let it rest on the area just to the right of the left side of your pelvis. Woah! What?!?!? How about a diagram instead…
Now it's just the back/right shoulder of your bass that's making contact. The shoulder should come at you at around a 90º angle. From your perspective, it should look something like this…
The 90º angle of your bass will create two 45º angles with your body. You don't want to have it angled too far in either direction. If you let go of your bass with your left hand, your bass should either stay in position or slowly fall to your left – away from you.
If it falls to the right – towards you, then you have your bass angled too far in. Try changing it's position so it either stays balanced on your body or slowly falls to your left.
Adjusting The Height Of Your Endpin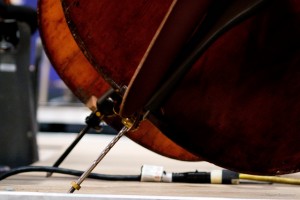 At this point, you can start adjusting the height of your bass. As a general rule of thumb, the nut of your bass should be around, or a little above your eye level. Start there and see how it feels.
Now rules of thumb are just that – and they're made to be broken, so figure out a place where you can reach all the areas of your bass that you need to.
Can you reach the end of your fingerboard with your right hand. Can you reach all of the low notes with your left hand? Are you still standing up straight?
Personally, I'm a small dude. I don't have the 'wingspan' of a taller man – so it's a bit of a stretch for me to reach the very end of the fingerboard. However, if I raise up my bass another notch, my left hand is put into an uncomfortable position when I try to play in my low register. My endpin height is a compromise between the two things.
When you've found the endpin height that works for you, take another look and feel at your body – not in a creepy way!!!!
Good technique mirrors how your body acts naturally.
You should be standing up straight, just like you normally would. The only difference is that you happened to have a bass in your arms.
Here's a checklist of everything that should be going on:
Both feet firmly on the ground
Your weight more or less evenly distributed
Lean your bass into your body
The nut of your bass around about eyebrow level
Your right hand can easily reach the end of your fingerboard
Your left hand has easy access to all of your low notes
The bass is coming to you at a 90º angle
If these seven things are working for you, then you probably have a good start in learning how to hold an upright bass.
Of course, every bass is different – just like the people playing them, so take everything you now know with a grain of salt.
I can't lie, this is easier for taller people, but that doesn't mean you can't do this – even if you're the shortest bass player you know.
Keep experimenting with different positions and find what works.
Find the position that your body has the least resistance to.
When you start becoming award of your body's natural resistance, you can alter your technique to line up with what your body wants!
Of course, probably the best way to learn how to hold an upright bass is to find a teacher who really knows what they're talking about and take a lesson or two.
They can actually go through and physically place your bass on your body and tell you where to set your endpin!
But until then…
Remember – YOU play the bass…Don't let the bass play you!!!
Thanks for reading. Leave a comment below and sign up for the Become A Bassist Newsletter.
Cheers,